Bluehost Web Hosting Review
Finding the right hosting service that provides a very good value for money is extremely important, and that's where Bluehost comes into play. 
Bluehost is widely known for being one of the best and most professional hosting services on the market, with incredible features and customizable services. You have to wonder, is Bluehost a suitable option for you? Let's find out!
One of the advantages of Bluehost is the fact that it has a very fast loading speed, which is crucial for SEO. On top of that, the load time for these websites is usually within a second, maybe 2 at most. On top of that, the response time can vary based on the server. Sometimes it can be 35 to 45 ms, and it can reach up to 179 ms or even well over 200 ms if we are talking about regions like Japan, Australia or India.
Bluehostis one of the few services that actually delivers on their promise to have a 99.99% uptime. Their uptime is indeed stellar, and you rarely get to find such a good uptime in the case of other businesses. They also have a professional customer support team that's online 24/7.
Based on our Bluehost review experience, they reply to your inquiry within 5 minutes, maybe less. That goes to show the reliability and efficiency of Bluehost and how you know you can receive a very good result when you choose to work with them.
Best Web Hosting Companies
Hosting features and plans
Bluehost is an official WordPress hosting provider, so it can bring in a very good result. It also has dedicated hosting servers, VPS hosting, WooCommerce hosting, but also cloud hosting and shared hosting too.
These really help provide a fast loading speed, while also giving the customization you want. Pricing starts at $2.99 per month, and it can go north of $100 per month if you want dedicated hosting. 
You can fully customize what options you want too, when it comes to security for example, or any specific features that will improve your website experience. They offer SSD storage, which is something to keep in mind.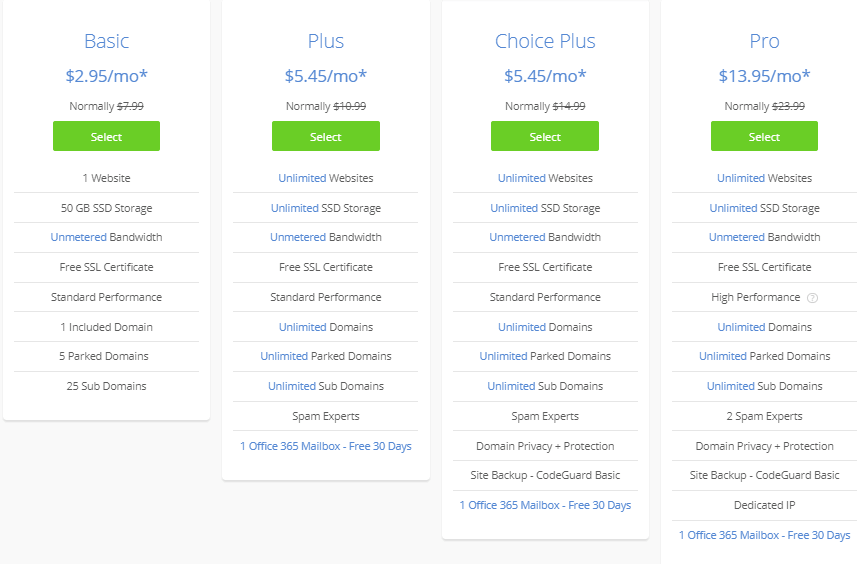 What you will like about Bluehost is the fact that it has a very good, encrypted storage system. The SSL certification service also helps your website stay secure, while instilling trust in the eyes of your customers. Sensitive data is protected and no one will be able to access it without your consent.
Some of the other things to consider about Bluehost would be the fully customizable cPanel and the numerous site tool add-ons that really help enhance the experience. 
They also offer an SSL certificate and Cloudflare integration, both of which are shared for free. 
Another thing you receive for free would be an email address specific to the domain and even the site builder included with Bluehost is free to use as well.
1- Recommended by WordPress.org: BlueHost is on the WordPress.org host ecommendation list.
2- Web host friendly for newbies: The overall BlueHost registration experience was simple. And I like how your custom BlueHost panel works.
3- Full daily backup and restore of the account:Bluehost offers daily backups and full restorations in your hosting plans, which is great, since having a daily backup of your website is absolutely important.
Bluehost General Info & Hosting Overview​
| Specification | Value |
| --- | --- |
| | |
| | |
| | |
| | |
| | |
| | |
| | 30-day money back guarantee |
Bluehost is one of the most affordable hosting services in the world and also one of the most professional services too.
They have a great speed, plenty of hosting solutions, and even if renewal prices are a bit high, they are still well worth a shot. The uptime is very good, and you will be very impressed with their quality and features.
Pros & Cons of Using Bluehost Hosting
You can currently get 65% off all plans . BlueHost offers a 100% money back guarantee.
Disclosure of earnings: we use affiliate links in some of the hosting services that appear on this page. This helps our site cover the costs of the site, Thanks for your support. 
Read more